Concerts in painting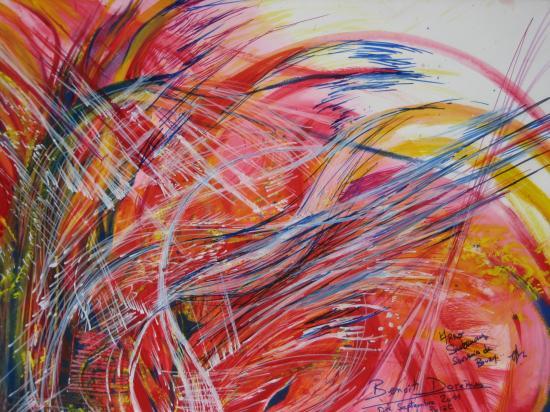 Live music is an overwhelming experience. Concerts ought to be a place where painters can sit to capture the intensity and velocity of sounds through line and colour.
During the rock concert of Bouzy La Forêt, I coded the energy and intensity of the music with felt tips. I strived to capture sounds in their flight and strangely the singers felt they recognize their music in this fabric of line and colour. This pre painting or colourful scribble forms a living architecture of movement from which a painting will be developed for another journey in transparencies, colour and detail.
Peinture de Béatrice Cofield signed by the singers , Benoît Dorémus and Arno Sautaunay because the picture is a literal translation of their music
Rivers and Heart lanes 
Private Coolection
Illustration of Genome, music from Walter Fabeck.
The energy, power of sound can be compared to a most powerful waterfall. Music is a fusion of all elements which projects us beyond time. This music inspires children in movement studies to consecrate the Olympic Games. The power, the freedom to move forward.
 Portraits of musicians : threaded by my music
 Portrait of Caroline Florenville, violonist in l'Orchestre des Siècles and l'Opéra Eclaté.
Interprétation of the Sea from Debussy ( Orchestre des siècles). 
By Béatrice Cofield
 http://www.evene.fr/culture/agenda/debussy-la-musique-et-les-arts-849197.php
Threaded  with  music by Béatrice Cofield